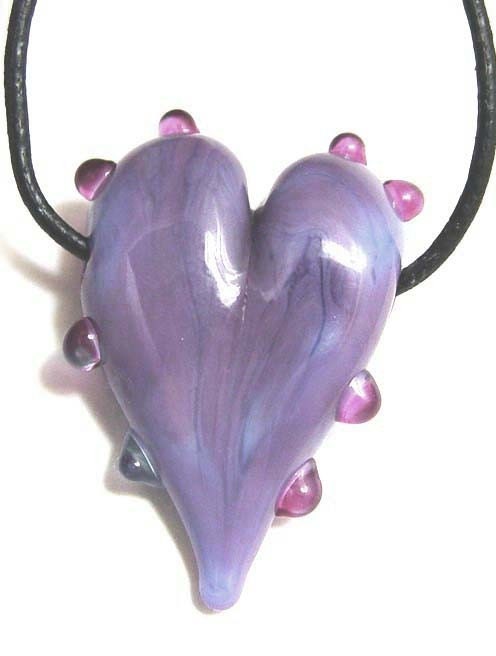 This is a great month for bead making. It's fun to make hearts. So coming out of my kiln this past few weeks have been many hearts. Florals, stitched, plain colors, shards, frits, just all kinds of melted glass shaped in the flame.
I love the symbolism that is involved with so many types. One example is a Purple Heart. Traditionally they signify a heroic act.
If a friend has been battling cancer, it is very special to gift them with a purple heart. When they finish treatment, or go through a tough time, I'll slip one in the mail for them, or on their desk or somehow get that gift to them. It's a talisman that I give them to help them remember, 'You are brave' and hopefully they will never have to be 'brave' in that way again. Sometimes a friend will ask to buy one, and I give it to them for whoever they wanted it for. Sometimes at an art show, someone will be in my booth that needs that purple heart, and it again, is a gift to them. In a small way, that glass can maybe help make at least that moment better.
Another place my beads go to is Beads of Courage, which is a marvelous program for children with cancer. The kids can pick out a bead for milestones in their treatment. It may be for a test, or a treatment, an act of courage. Hopefully, the strand of beads a child puts together, each marking some moment in their cancer journey, will be a short strand. Unfortunately there are times the strand is long. Sometimes a very long marking of a journey no child should have to take.
Purple hearts are often made by lampworkers and donated to the program, in addition to any other beads one might send. The beads can be 'any' bead, not just a heart. So maybe a bead is red and polka dotted. A kid might love that bead and can pick it out of a pile, and hopefully it takes their mind off their big problem for even a moment.
As we know, sadly, a cancer journey can end with dying. The strand of beads a child had showing their courage, is something for their family to save. Beads of Courage also gives a butterfly bead to the family who has lost their loved one. I hate to think of a strand of beads with a final butterfly at the end of it, yet know that each of the beads on the strand 'does' show a moment in time and a reflection of the child's personality in color and design, with hope and some happiness tossed in.
Beads of Courage is a wonderful program.
You can read more about it here
. And you can also donate if you like, not just beads, but financial support to augment the handmade beads. I hope one day to see this program end because no one needs beads anymore. But in the meantime, hopefully more and more purple hearts will be made and will mark the SUCCESSFUL end of treatment for a child with cancer.